Eco-Vue Leather iPad Case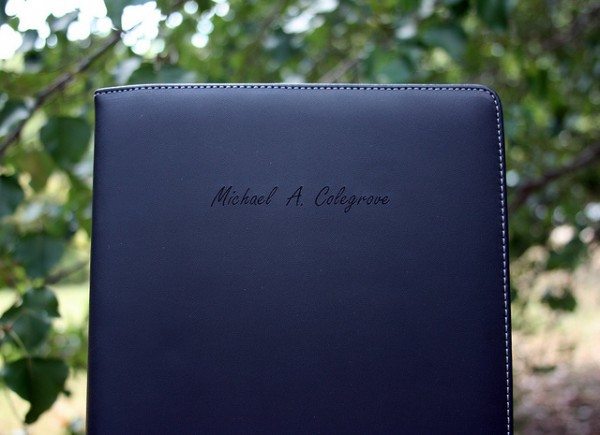 You can provide the case or purchase the case bundled with the engraving.
The engraving appears black and sharply recessed in appearance.
The Eco-Vue is a stylish eco-leather folio case for iPad that delivers 3 solutions in 1. A unique and innovative hand strap design allows you to fold back the cover and securely grip the device during usage – a feature not offered in many other cases or covers. The Eco-Vue opens like a book, and the front cover can be used as a stand. The elastic strap keeps the case closed while the foldover tab inside helps keep the iPad from slipping out. A foldaway display stand is ideal for lower-angled typing or viewing, and rounds out a broad array of features provided in a single case solution.
What is so great about eco-leather? The tanning process used to make this leather uses fewer toxins than traditional leather tanning. This minimizes toxic runoff into the ground and water tables. Throughout the entire process, the leather remains RoHS (Restriction of Hazardous Substances) compliant. No chlorine, no sulfuric acid, and no petroleum/chemical based dyes. This is real leather, without the environmental impact of standard tanning and dyeing processes.
3-in-1 Case solution: Folio style leather case angled stand options hand strap
Eco-leather folio case design made from RoHS compliant leather (Restriction of Hazardous Substances)
Hand strap allows secure grip
Folio lid allows the iPad to stand while in use
Table top stand folds away when not in use
Elastic closure strap and fold-over tab keep iPad secure